According to a report from Statista in 2016 only 5 percent of Indians households had an air conditioner with them.
If you have an AC at home then congratulations, you are in the 5% group.
But if you are not in this group then maybe you are looking to buy one.
Either way you want to know how many ACs are there and that is what this post is about.
Before we move further let's be clear on the difference between residential and commercial ACs because we have listed only residential ACs here.
Residential vs Commercial AC
Usage – Residential ACs are meant for use at homes and apartments while commercial ACs are designed for use at bigger spaces like office buildings, malls, airports, hospitals, etc where cooling demand is high.
Cost – Commercial ACs are highly expensive.
Maintenance cost – For commercial AC is much higher than residential ACs. Many householders service and clean their residential ACs like windows or split on their own cutting the maintenance cost.
Types of Air Conditioner
---
If you are short on time then only read the pros, cons and when to buy section.
1. Split Air Conditioner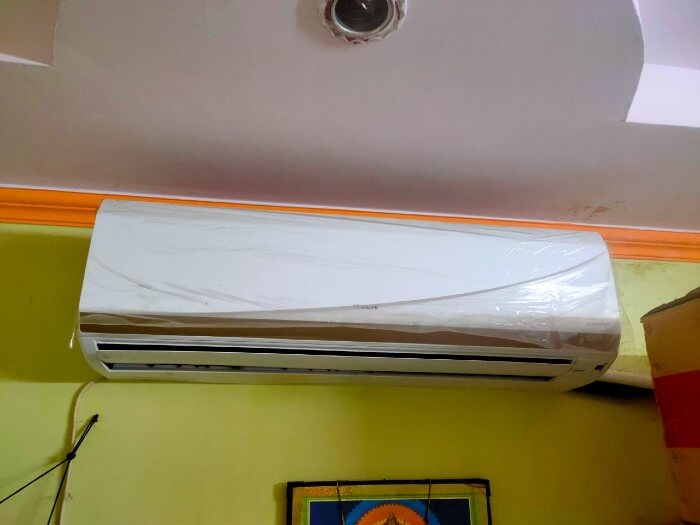 Most popular type of home air conditioner after window AC.
As the name suggests the AC is divided into two parts. One is the indoor unit and the other is the outdoor unit.
Indoor unit is mounted on a wall in your room and the outdoor unit is either placed on the roof, or ground, or balcony, or sides of your building.
Indoor unit contains the evaporator and expansion valve, and blower.
Outdoor unit consists of a compressor and condenser.
Both the units are connected to each other via coolant coil. The gas or coolant circulates between both units via coolant coil.
If you are looking for how split AC works then check this article.
Pros
Highly Energy Efficient – With time newer split ACs are becoming more and more energy efficient.
Consumes Less Power and leads to low electricity bills
It can be installed on any wall of the room. No need to worry about windows or frames.
Cons
Needs hole in the wall for connecting the outdoor and indoor unit. This is a big issue with people living in rented spaces where the landlord doesn't allow drilling of walls.
Its indoor unit occupies wall space.
When to buy
You want to cool a single room
You want low electricity bills.
You don't want noise while sleeping, especially at night.
Your daily usage is high, like above 6 hours.
2. Window Air Conditioner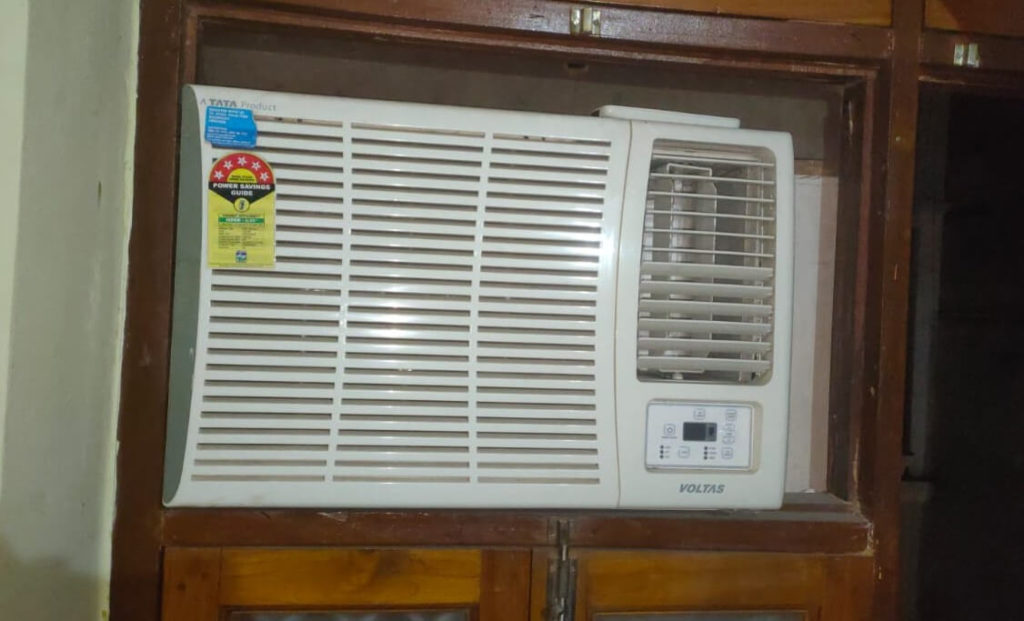 "Champions of cooling smaller rooms"
The AC which fits into a window is called window air conditioner.
It's a standalone unit and a complete cooling package in itself.
Every component is packed inside a single unit. The compressor, evaporator, condenser, and blower are fitted inside the same tiny space.
The key factor why people buy window AC is its price and easy installation.
It's very cheap.
However these are inefficient in terms of power consumption, and are too noisy.
The demand for window AC is going down with time. See the chart below.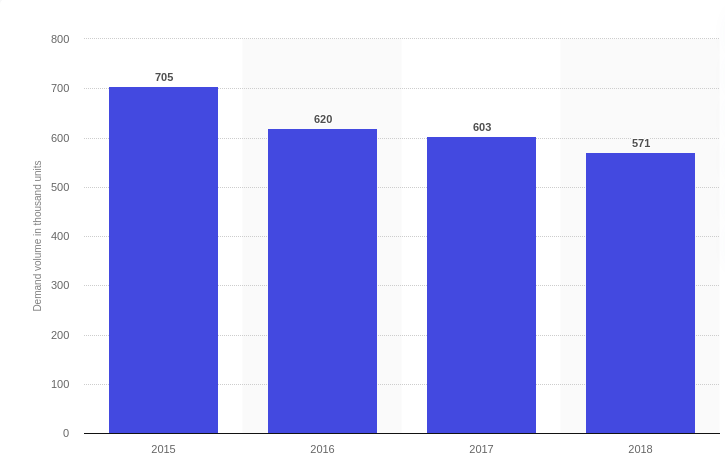 Check this article where we have compared window with a split AC.
Pros
Window AC is the cheapest option available.
Installation is easy, many householders install on their own.
Maintenance, servicing and cleaning is easy and inexpensive.
Cons
Window aircons are too noisy as the main culprit "compressor" responsible for noise is fitted in the same unit.
Poor Energy Efficiency – Its EER rating is low compared to that of split ACs. You can compare window ACs with highest ISEER rating split AC, you will be shocked to know the difference.
Requires Window – Without a window one cannot use window AC.
When to Buy
Your budget is low and you need a cooling solution.
Your daily usage of AC is low.
You want to be free from servicing issues and servicing costs because window ACs seldom require servicing except for cleaning.
3. Portable Air Conditioner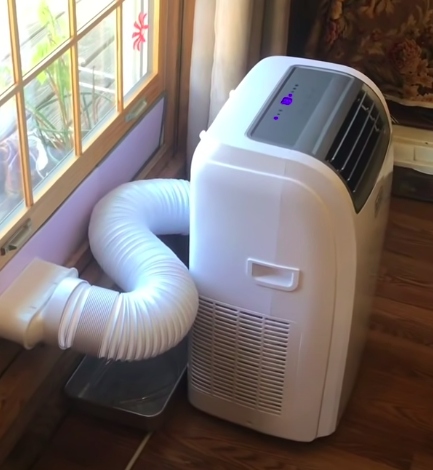 Portable ACs are a new type of air conditioner which are slowly picking up the pace in the home cooling market.
The key USP of this AC is its portability.
It can be used anywhere and everywhere inside a house. This appliance is moveable and small in size.
This can also be seen as a hybrid between an air cooler and an air conditioner.
Portable AC like window AC has all the components like compressor, condenser, evaporator, blower inside a single unit.
Hey you!! Are you looking for a new AC anywhere soon then we recommend to read our out of the world research on 3 star vs 5 star AC. You will be amazed after reading this article.
It has an exhaust pipe which throws hot air, this pipe needs to be fixed in a window or door for expelling the heat outside.
Manufacturers send panels for fixing the exhaust pipe in the window or door.
Pros
Easy to use, simple to setup.
Can be used in any room.
Good for spot cooling.
Can be stored in a store room when not required.
Cons
Low Cooling Power
Fails to cool a room to the desired temperature within a good span of time.
Inefficient in terms of power consumption
The exhaust pipe needs to be fixed in the window or a door.
When to Buy
Portable AC is good for bachelors living in rented rooms where there are no windows and the landlord prohibits drilling the wall for installing split AC.
4. Cassette AC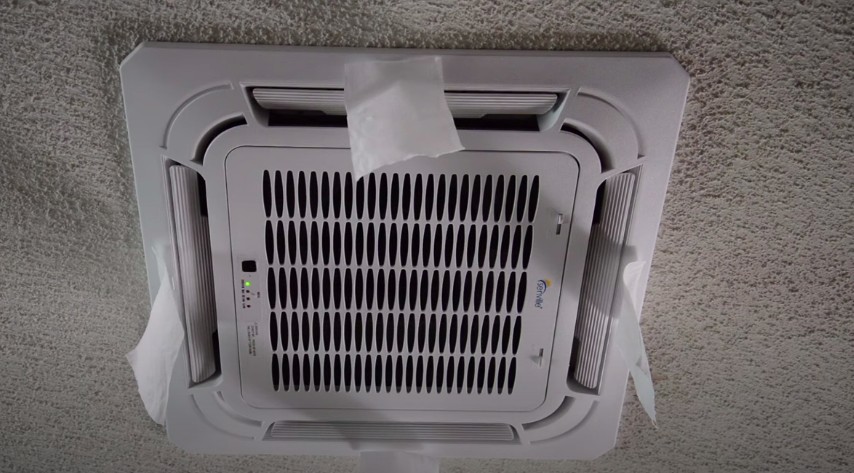 Cassette AC is similar to split AC except that the indoor unit is hung to the ceiling.
Here there is an indoor unit and an outdoor unit.
Outdoor unit is the same as with a split AC. Indoor unit is only different and is hung on the ceiling.
The key advantage of using it is better airflow and high coverage area.
It can cool a bigger room faster when compared to a same tonnage wall mounted split AC due to its high airflow.
Split AC will fail to cool a big room equally. One end will become more cool while the other end will become less cool.
Cassette AC has multiple vents for airflow delivery. Airflow can be 1-way, 2-way, 3-way, or max 4-way.
Usually used in a big room, hall, or commercial space.
It is becoming popular in residential spaces and with homeowners slowly.
Few brands which market cassette AC are Mitsubishi, Samsung, Daikin, Voltas.
Pros
The indoor unit gets hidden in the false ceiling. Guests cannot easily figure the placement of cassette AC in the room.
Higher Coverage Area- The air can flow horizontally reaching far ends of the room.
Cools the entire room equally.
No drainage issue with the indoor cassette unit.
Cons
It is expensive, almost 2-3 times the price of a split AC.
Usually installed with a false ceiling but can also be installed without it. With no false ceiling the cassette AC will be visible and may not look appealing.
Installation and service is difficult and so the respective costs are higher.
When to Buy
Need cooling for bigger rooms and areas.
Need a cooling solution for restaurants, showrooms, schools, etc.
5. Central AC
It is used for cooling large apartments and buildings.
More common in the United States.
According to the Energy Information Association, of all the air conditioning systems in the US, 87 percent use central AC. Their homes are designed and built keeping in mind the requirement of central AC.
But here in India it is uncommon to see central AC in residential homes.
Though it is the go to solution for commercial spaces.
Functioning
Central air conditioning is a hvac system in which air is cooled at a central location and distributed to and from rooms by one or more fans and ductwork.
Central AC has many components and is more complex.
Along with components like condenser, compressor, evaporator, coolant, blower it also has ducts, vents, fans to distribute cool air in the entire house.
Central AC can control indoor temperature, humidity, air quality, and ventilation of a room.
Pros
Suitable for office buildings, factories, airports, hospitals.
Suitable for big houses and apartments.
With the Air Handling Units(AHU), it can bring fresh air from outside, maintaining the oxygen level inside.
Sophisticated air filters can be used to filter and purify the air
Cons
Higher upfront cost, higher installation cost, higher maintenance cost.
Consumes a lot of electricity which leads to high bills.
The ducts can be infested with bugs and rats.
6. VRV/VRF System
VRV: Variable Refrigerant Volume
VRF: Variable Refrigerant Flow
Both the terms refer to the same air conditioning technology.
This system was first introduced by Daikin to be used in commercial buildings but now it can also be used in residential spaces.
It is similar to a split air conditioner where there is an indoor unit and an outdoor unit.
In a VRV or VRF system there is 1 ODU(outdoor unit) just like in split AC but can have multiple IDU(indoor units).
It can cool multiple rooms with a single outdoor and a multiple indoor units.
Every indoor unit is connected the single outdoor unit with coolant pipe.
Also called the multi-split air conditioning system.
For example if you have 4 rooms and you want to cool each room then ideally you may buy 4 different split ACs. Each split AC's outdoor unit will consume extra space that can be saved with the VRV/VRF system where a single high power outdoor unit is used.
Check this animation from LG on this AC.
Pros
No need of ducts
Can cool several room
Highly Energy Efficient
Each Room has a different remote for controlling temperature.
Cons
Very Expensive
Servicing and Maintenance can only be done through the manufacturer and so its servicing and repairing is costly. Also local technicians cannot service a VRF system.
When To Buy
Want to cool several rooms but do not want to go with a central air conditioning system.