This post is a compilation list of the best air conditioner brands in India.
The ranking done here for each company is based on the market share, pricing, and the technology innovation they bring to the table.
Market share is a highly decisive factor and it indicates the inclination of the masses toward a particular brand.
1. Daikin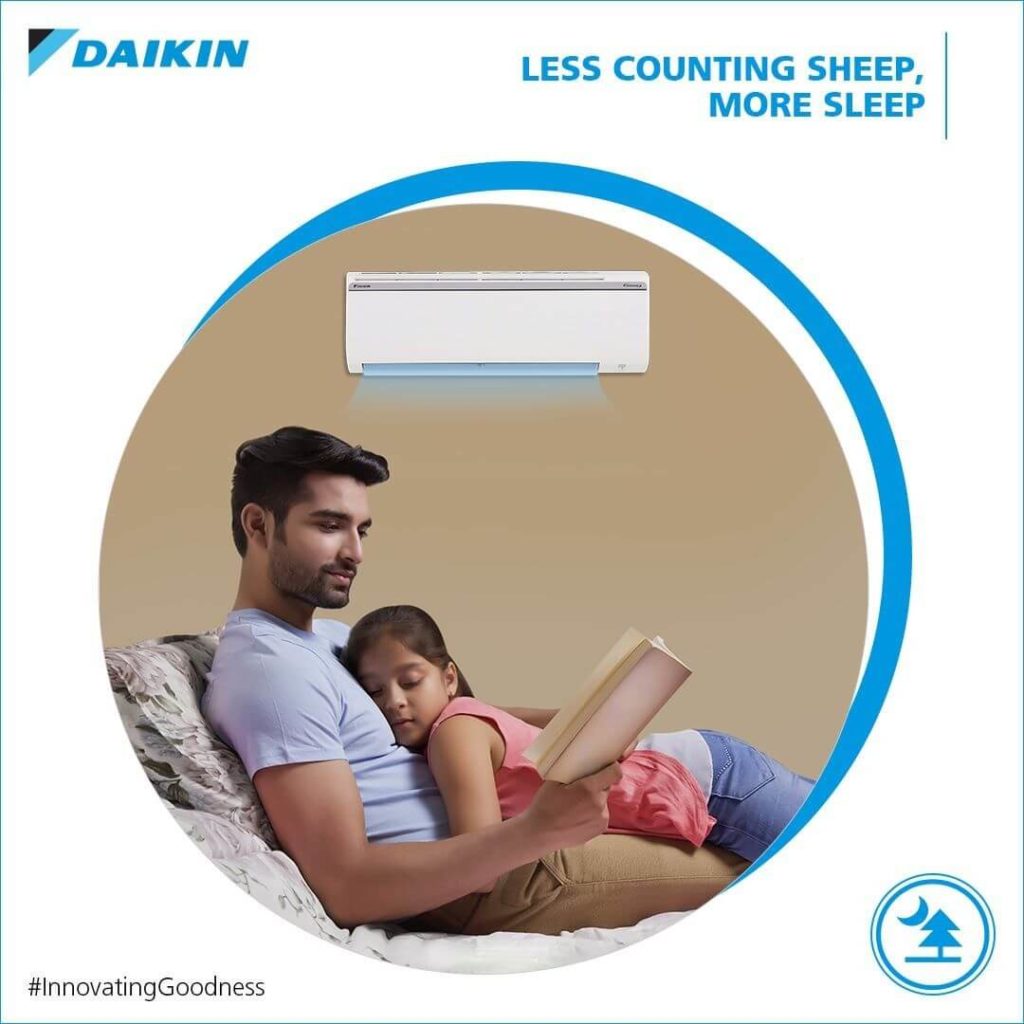 Daikin is a "Japanese" brand that makes air conditioning and cooling products in more than 150 countries.
It manufactures all types of AC like window, split, cassette, commercial, etc.
If you want an AC with the highest ISEER rating then go for Daikin.
Achievements of Daikin include the introduction of ozone-friendly R32 refrigerant gas for the first time and making AC with the highest ISEER rating.
The compressors used inside all its AC are unique to the company and are patented by them.
This allows the AC to work efficiently and quietly. It is generally seen that Daikin ACs make less noise when compared to other ACs.
All Daikin ACs come with a built-in voltage stabilizer along with the cut-off feature.
Every Daikin AC that sells in India is made and manufactured in India only. Its manufacturing unit is in Neemrana, Rajasthan.
It offers a 5-year warranty on the compressor of all its ACs.
2. Hitachi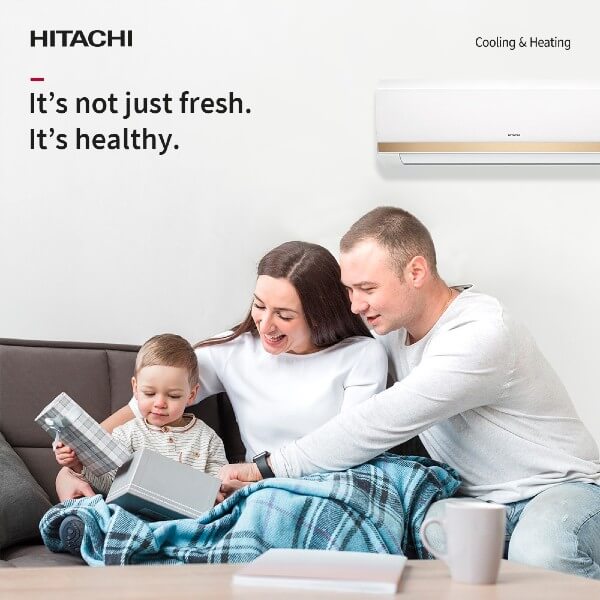 Hitachi is a Japanese company that is currently under Johnson & Johnson.
It makes good quality air conditioners and is better known for its cooling.
Most of its split ACs come with ozone-friendly R410A refrigerant gas.
Features that make it stand out are
Its I-Fresh or frost wash technology is designed to clean the indoor evaporator coils after every 70 hours of use.
Its I-Clean or auto clean technology automatically cleans the air filters.
One unique feature of Hitachi AC's is I-Sense or Follow Me mode which senses the number of people inside the room and changes the airflow accordingly to direct most of the cooling towards a person.
3. Voltas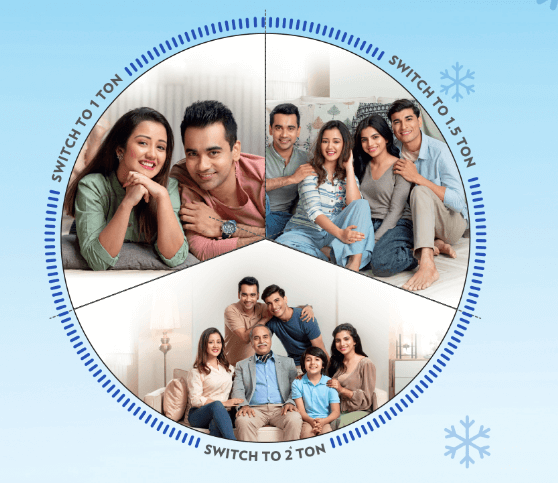 It is owned by TATA Group.
With over 21% market share for room air conditioners in India, Voltas is the most popular and the highest-selling AC brand in India.
Its achievements include
Providing air conditioning and ventilation facilities to the world's tallest building Burj Khalifa.
Receiving Ministry of Power's National Energy Conservation Award 2020
Voltas offers the largest number of service centers in the country making the servicing of its ACs better.
The reason for Voltas's popularity and growth is its pricing which is very budget-friendly for the general consumers.
4. Blue star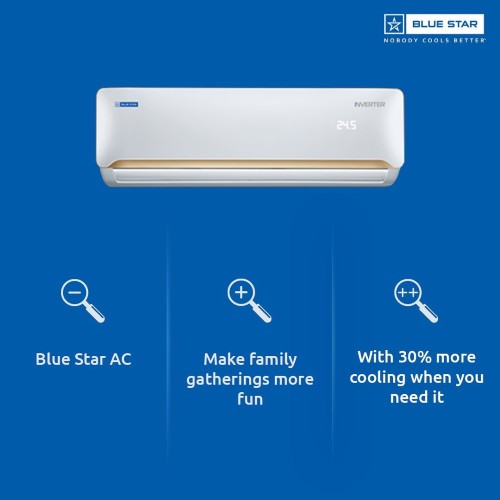 Blue Star is an Indian MNC founded in 1943, it specializes in making air conditioning products.
In 2018, the company had 2900 channel partners, 5000 stores for AC, refrigerators, etc and 765 service associates in over 800 towns.
In 2020, the company was awarded "The Best Governed Company" award at the 19th ICSI National Awards for Excellence in Corporate Governance.
Its Precision Cooling technology allows it's few ACs to set your room temperature in decimals by 0.5 °C, ex- 23.5 °C. Normally temperature can be set in steps of 23 °C or 24 °C, i.e by 1 °C.
For the newer Blue Star models, the company uses the dual rotor inverter compressor.
5. LG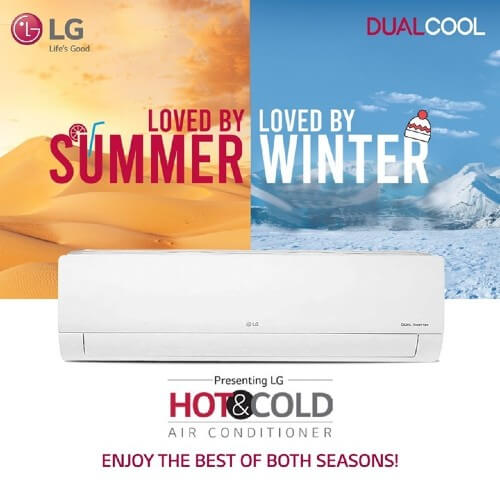 South Korean Multinational giant LG comes 2nd after Voltas in overall market share for room air conditioners in India.
It was the first company to bring dual inverter ACs which are more cooling and energy-efficient.
Most of its latest ACs are enabled with wireless access and can be monitored and controlled from your phone using the Smart ThinQ App.
Its Himalayan Cool technology brings the room temperature to the desired temperature within a few minutes.
To increase the durability and life of its AC, LG uses anti-corrosion gold fin technology on the outdoor unit.
On the price point, it is not as budget-friendly as Voltas or other brands.
6. Carrier
HVAC company from Florida, America, was founded in 1915.
It not only manufactures room air conditioners but also designs HVAC systems for commercial purposes.
It has 14 of its own sales and service centers along with 800 sales and service partners throughout India.
7. Haier
Haier is a Chinese electronics and home appliances company.
Revolutionary products like Bottom Mounted and French door refrigerators and many other customer-focused solutions are some of the few achievements of them.
In the year 2015, Haier won the "Make in India Award for Excellence" under the consumer durables category.
Its aircon comes with I-Fresh or frost wash technology to clean the dust from the evaporator coils automatically.
8. Whirlpool
Whirlpool is a company from the United States.
Its India office is headquartered in Gurugram.
It makes home appliances like air conditioners, washing machines, refrigerators, etc.
Its unique advanced MPFI technology is designed to facilitate rapid heat exchange increasing the AC's cooling efficiency.
9. Samsung
The multinational giant Samsung lacks behind in the race of room air conditioners.
Its aircon is not very budget-friendly and is slightly higher on the price range.
Its achievement in the air conditioning industry is the use of triple inverter technology which uses a 8 pole motor enabling the appliance to run more efficiently consuming less power.
For protecting the outdoor condenser unit from corrosion it uses Durafin technology.
10. Onida
Onida is an Indian brand that manufactures several home appliances like aircon, TV, ovens, washing machines.
It uses dual rotary compressors for increasing the range of operating frequency for varying the tonnage and cooling capacity.
Market Share Data:
https://www.moneycontrol.com/news/business/no-sweat-scorching-summers-to-boost-room-ac-industry-growth-by-15-2551277.html