India is a hot and humid country where we face summers for 8 months and winters for 4 months only.
The winters are harsh in the northern part of India along with hilly areas.
Room heaters provide you the comfort of a sound sleep at night without shivering.
Older people tend to feel colder in winter and they often require some heating.
There are three types of room heaters – Fan, Radiant, Oil. Each of them heats the room differently.
After a week of comparison and research, I have listed the best room heaters for all the three categories here.
This is a review post for electric room heaters.
At the end of the post, I have made a buying guide reading which you can easily make the right purchase decision. Also, I have answered some frequently asked questions related to room heaters at the end.
Refer to the Page Index below for better navigation.
Best Room Heater for Winters
Usha is an Indian brand that started in 1934, it is mostly known for its electric fans.
This room warmer from Usha uses quartz rods for producing infrared rays for heating.
Features two rods, both of these rods are 400 watts each in power. The individual rods can be switched ON and OFF making it operate in 400 or 800 watts.
Not meant for longer, over-night operations.
It does not have a built-in thermostat but it can switch off when the rods reach near to overheating. The switch can also get switched off when the device tips over.
The rods in it come with an anti-corrosive powder coating.
Being an 800 Watt power heater it consumes less electricity. It is very light, portable and easy to carry.
The body is made of some type of plastic making it safe for children and pets. Grills are made into the device in front of the rods for safety.
Pros
Fast Heating
Two Settings – 400 and 800 watt
Quartz Rod
Cons
Not suitable for entire room heating
This is the most selling room heater online from Orpat which has made a name for itself in room heaters.
This Indian brand is the largest manufacturer of household electrical products like heaters.
You get a 2000-Watt power heater in just under 1000 rupees. It features two operational settings of heating with 1000 and 2000 watt power.
The heating can even be shut down to use this as a fan only device.
It is very safe to use even when kids are around. The body is made of plastic and a safety grill is provided so that you don't get an electric shock or burn from the heated filaments.
Still train your kids to maintain some distance from any electrical equipment.
It is a fan heater that circulates the room air. Unlike an infrared or radiant heater, it is slow in heating. But can heat the entire room if left ON for hours in a closed room.
However running it for longer periods is not recommended in a closed room, it can make you feel dry inside the room.
Pros
Portable, small room heater, easy to carry
Safe Body made of plastic
Two heat settings – 1000 and 2000 watts
Use as table fan in summers
Budget-Friendly
Under the thousand rupees price range this radiant heater is the cheapest room heater available in the Indian market.
Bajaj is a big brand mostly known for its automobile manufacturing. So rest assured for the brand's product.
This radiant heater comes with a 2-year warranty.
It does not come with a built-in thermostat for setting the temperature.
For producing infrared waves or heating it has a single rod that can take up to 15 minutes to heat a single person.
The mesh provided in front of the rods is nickel-chrome plated
It is ideal for small rooms for heating 1 or 2 individuals.
Don't run it for a longer period of time, max time = 30 minutes.
Keep it away from children and pets. The body is not safe to touch when it is ON.
Small in size, portable and build quality is average.
Pros
Better for heating a single person
Budget-Friendly
Low power consumption
Cons
Not safe for kids, they can get too close
Electric room heater from Singer. This radiant heater uses a quartz rod for producing heat.
You must have heard the advantage of using quartz rod, that is it does not produce carbon dioxide or carbon monoxide or reduces the room oxygen levels. This is a myth
Being an 800 Watt power heater it consumes less electricity and is the best room heater with low power consumption.
It has two quartz rods each of 400 Watt. Both rods have controls for switching it ON or OFF so that the heater can operate on 400 Watt or 800 Watt.
The body is made of plastic making it safe to use but still don't touch the grill when the device is ON.
Heats 1-2 people quickly, not meant for heating the entire room.
It is made for use as a standing device. Such devices can tip over causing accidents by getting short-circuited. To reduce this possibility it uses a tip-over safety switch.
The company offers a 1-year warranty on the product but does not include the quartz rod in the warranty.
Pros
Two modes – 400 and 800 Watt
Low Power Consumption
Portable
Budget-friendly
Cons
Short Power Cable
Warranty does not cover quartz rods
Another product from Orpat. This time is a radiant heater with reflectors to make the heat causing infrared waves to go in a straight direction.
It can give you the feeling of instant heating if you sit in front of it. This is possible due to the infrared rays it emits and passes in one direction.
Best for heating 1 or 2 individuals. Not meant for heating the entire room, the heat emerging from it goes in a single direction. If you want to heat the entire room better look for an oil-based heater.
The reflectors are nickel-chrome plated with a nickel-chrome mesh grill. These materials heat quicker.
Not safe for kids as they can touch it or get too close.
The device has some mechanism that allows it to switch off when it gets overheated.
It is small in size, portable and easy to carry. Don't move it when switched ON, first let it cool then move.
Orpat offers a 2-year warranty on this device including all parts.
Pros
Instant Heating
Cheap and Budget Friendly
2-year Warranty
Cons
Not safe for kids to get too close
No Thermostat
This is an ISI certified fan heater from Solimo under the Amazon brand.
It is also a good selling heater online. This being a fan heater is slow in heating but tries to heat equally the entire room.
To heat the entire room, you will have to run it for at least 1 hour constantly.
The body is made of plastic of white color with anti-corrosion grills on the front. It is small, portable, lightweight and easy to carry even.
You can lift or move it even when it is switched ON but still handle it with precautions. This makes it safe for children.
The powerful fan can throw hot air 7-8 feet farther. If you buy this room heater, for the first few days it will produce a strong plastic burning smell but will vanish with time.
This is a 2000 watt room heater, the power plug should not be plugged into lower rating sockets or it may melt.
The wattage and heating can be changed with controls from hot, warm and cool.
Pros
Portable
Safe for kids
Use as Table Fan in Summers
Cons
Can dry the room if ran for a longer time
Plastic Burning Smell for a few days
This one is a halogen heater from Bajaj.
Heaters that use halogen elements within their heating filament are called halogen heaters.
These heaters produce more heat and light than other electric heaters. This is best for heating a room, unlike a reflector heater which is good at spot heating.
It has two heat modes – 400 / 800 watts. It consumes low power when only one rod is ON saving electricity.
The company offers a 2-year warranty on this product which is good for this price. However, this warranty does not cover the halogen rods.
It is operational when standing vertical, there are chances of tipping over by falling horizontally. A safety switch is used to switch it off when it tips over or falls down.
The body is made of ABS material which is a type of plastic making it safe to touch but still use it with safety.
The grills in front of the rods can get too hot, so don't touch it.
Pros
Energy Efficient
Low Power Consumption
Dual Settings – 400 / 800 watt
Safe for kids
Best Oil filled Room Heater in india
Oil-filled room heaters are the best type of heater which can be used overnight for a long time. These are safe for young ones, pets and toddlers. It does not have any negative effects on health.
Morphy Richards is a brand from the UK. It sells kitchen and home appliances in the Indian market under the trademark of Bajaj Electricals.
This room heater is the cheapest oil heater in India. It is priced under seven thousand rupees.
The manufacturer has done several cost-cutting to reduce its price. For example, there is no fan in it to circulate the heat better and faster.
These types of heaters are the safest ones. It is safe for kids, toddlers and pets.
It also does not make the room dry nor it has any harmful effect on the health.
The best part of it is producing heat still after the switch is turned OFF.
This is a little bigger in size and heavy, weighing 12kgs.
It has 3 power settings – 800 / 1200 / 2000 Watts. Choose based on your heating requirement.
The company provides a 2-year warranty on the product. If you buy online you can contact them using the details provided in the warranty card.
If you are low on budget then you can go for it but the model with a fan would be better in terms of overall and faster heating.
Pros
Safest for toddlers
Thermostat provided
Budget-friendly oil heater
2-Year Warranty
Havells is a popular Indian brand best known for home appliances like fan, geyser, iron, water heater
Started in 1958 it is now operating in more than 40 countries.
This oil filled radiator has 11 fins and at max it consumes 2900 watts.
It is the best oil heater in India with a fan for better, faster circulation of heat.
Comes with a thermostat so that it can switch OFF after attaining the required room temperature.
There are 3 power settings. Choose from 1000 / 1500 / 2500 watts settings based on your requirement and environment conditions.
It consumes an additional 400 watts for running the fan.
As usual, it is safe for young children, toddlers and pets.
Build quality is solid, looks good and is big in size. It is heavy and weighs 17kgs.
Being big and heavy it is not meant for portability and moving but Havells has provided wheels to move it easily.
It consumes a lot of electricity. Be ready for paying a good amount of money on the electricity bills if you run this device for the entire night every day.
If you want a lower variant for the same product with low power consumption then check the havells oil filled heater with 9 fins.
Pros
Wheels for moving
Better Heating
3 Power Settings
Thermostat Provided
---
Buying Guide Room Heater
---
1. Types of Room Heaters
Be it any electrical room heater. Each of them falls in the radiant, fan or oil based heater category. Each works differently.
1.1 Radiant Heaters
These work by producing infrared radiations the same waves produced by the sun. These waves are unaffected by their medium of travel.
It produces heat by getting absorbed by a material or object which comes in their path.
A rod is used which gets heated when electricity is passed through it. The heater can have 1-3 rods. The type of rod or filament used to produce heat can vary from carbon rod, quartz rod or halogen filament.
Infrared waves generated from the radiant heater travels in a straight direction until it gets either reflected or absorbed by an object.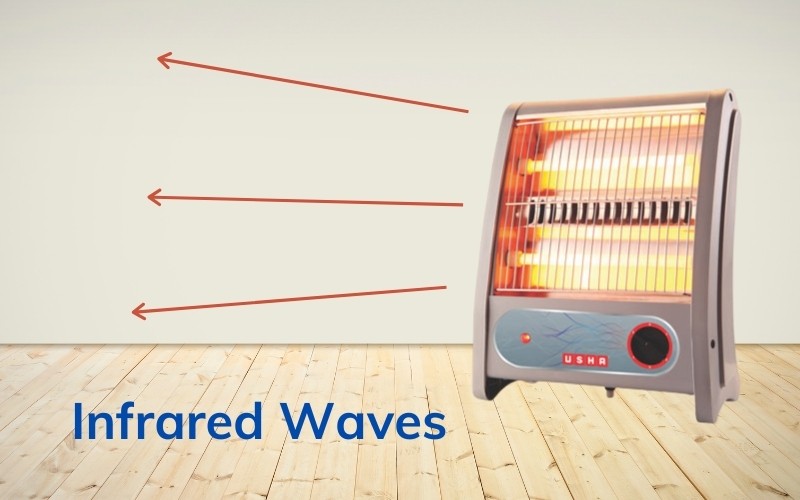 Pros
Gives Instant Heating to whatever comes in front of it
Are energy-efficient as no fan is used
No noise is produced
Are small in size, portable and light-weight
Make you feel warmer even if the room is open
Cons
Produces Bright Light which may be not suitable to sleep with at night
Not Ideal for heating the entire room
1.2 Fan Heaters
Cheapest type of room heater bought extensively. These work on the principle of convection. The filament inside the device is heated by passing electricity in it.
A fan is used which throws air on the filaments. The air that gets in contact with the heated filaments gets warmer and is passed outside in the room.
The air is continuously circulated inside the room slowly making it warmer.
It is not used for spot heating like radiant heaters. It is used for heating the entire room. To achieve this one needs to close the room.
For me, this is the worst type of heater as you need to close the room for getting the required result and it takes too long to achieve it.
Closing the room for the entire night is hazardous for health. Oxygen levels drop in a closed room with time. Low levels of oxygen is not good for health.
It takes very long to heat a room. You can take the time to be from 1-2 hours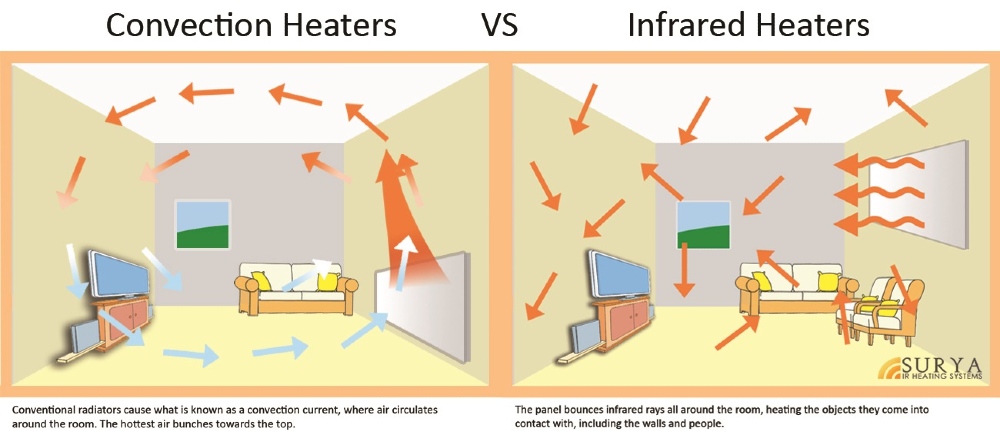 Pros
No light is produced
Safer than radiant heaters, safe for kids and pets
Very small and portable, can be carried even when ON
Are Budget Friendly
Cons
Fan produces good levels of noise
Can cause severe dryness in a closed room
1.3 Oil Filled Heaters
This room heater is a little bigger in size, has fins or columns joined together to provide surface for heat transfer to the environment.
It contains oil which gets heated when electricity is passed. This oil acts as a heat reservoir. The heat from the oil is passed to the fins or the vertical flat surfaces which radiate heat.
The best part of an oil heater is the oil remains hot for some time even after the device is switched OFF providing warmth to the room.
Oil heating takes some time. To make the convection faster many oil heaters use fans for circulation.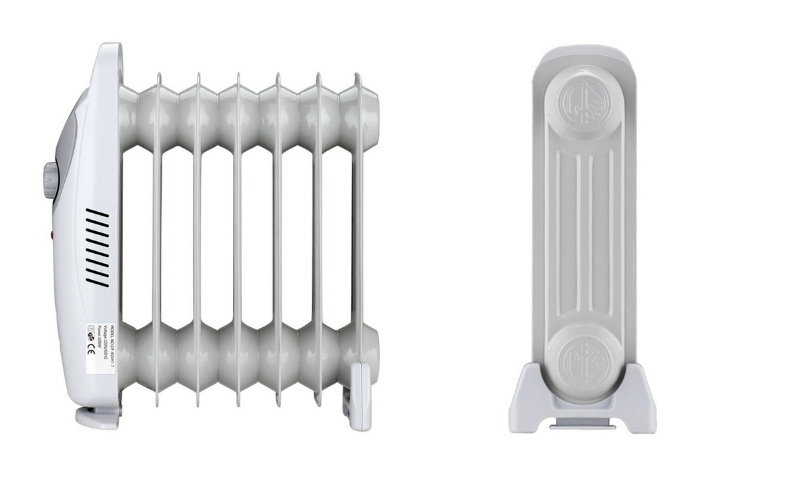 Pros
Safest option for toddlers, children and pets
No light produced
Efficient in heating the entire room
Does not produce any kind of dryness in a room
Heats even after the device is switched OFF
No adverse effect on health
Can heat even bigger rooms with time
Cons
Very Expensive
High Electricity bills
Heavy in weight
2. Things to consider before buying room heater
2.1 Brand
Buy products of good brands. A locally made heater by some unknown brand or heaters of Chinese brands are not the best in quality.
They may wear out very soon. The possibility of it catching fire or you getting an electric shock is higher in a non-popular brand
2.2 Safety
Not all room heaters are 100% safe.
Oil filled heaters are the safest with radiant heaters the least safe, while fan heaters are somewhat safe.
Heaters use some safety measures which switches off the power when it gets tip over or in the case of overheating. You have to look for these features in the device.
2.3 Portability and Size
You need some vacant area to place your room heater. In case of a fan heater you can place it anywhere as it is the smallest in size.
While in the case of an oil-filled radiator it needs some good amount of space to place and maintain distance from other objects. The same goes for radiant or infrared heaters
2.4 Price
Choose a room heater depending on your budget. Most of the heaters in the market are available in the range of 1000-3000.
Only oil heaters are expensive and cost you 7000-12000 rupees.
2.5 Multiple Operational Modes
Heaters with multiple modes are better for example if you buy a 1000-watts heater and it has two modes – 500 & 1000 watt.
You can heat yourself and your room choosing from 500 or 1000 watt.
Not always you will require the whole 1000 watts power.
Running the device on 500 watts will also save electricity.
3. Safety Precaution while using Room Heaters
Don't keep the heater close to a source of water like inside the washroom.
Keep the heater away from any inflammable material like kerosene, gas cylinder or petrol bottles.
Train your young kids to maintain some distance from heaters and never touch these devices by hand.
Never use an extension cable, always put the power plug in a higher amp socket. Lower amp sockets can meltdown.
Avoid using fan heaters near curtains as it can get sucked inside.
Don't touch a radiant heater while switched ON.
---
Frequently Asked Questions
---
Which type of room heater is good for health?
Oil filled radiators are the desired room heaters which do not have any adverse effect on our health. It does not lower the moisture inside the room or produce any hazardous gas like carbon monoxide.
Can I use AC as a room heater?
Air conditioners are generally used to cool the room via the refrigeration cycle. It throws cool air inside and hot air outside the room. To make the room hotter we have to reverse this cycle. This is called 'heat pump'. ACs with heat pump technology can be used as room heaters. Check ACs with heat pump.
Do room heater dry up the air?
No room heaters do not dry up the room but you will feel dry after some time as the air gets warmer inside the room because warm air can hold more moisture. The warm air sucks the moisture from your body making you feel dry
What are the best room heater brands in India?
Usha, Havells, Orpat, Bajaj, Orient are some of the best brands that manufacture room heaters in India
Is it safe to sleep all night with a heater on?
It is safe in the case of oil-based heaters but not in the case of radiant heaters as the rod used in it has the possibility of catching fire. Fan type heaters can make you feel dry
Do electric heaters reduce oxygen levels in the room?
This is a myth that electric heaters consume oxygen thus reducing it in the room. The heat produced from the filaments or rod is not undergoing some type of combustion. For heating the room you need to close the room. Oxygen levels will eventually reduce in a closed room with time even if no heater is used. To know more click here.